I recently discovered an amazing crispy baked chicken wings recipe and believe me when I tried it personally, the end result came out so good even though it is the baked chicken wings recipe, they were really really CRISPY.
In this blog, I am going to share the recipe for the best crispy baked chicken wings, so, if you are interested then you have to keep reading this blog till the end.
Best Crispy Baked Chicken Wings Recipe So Far
I am always searching for great chicken wing recipes.  I have tried different sauces, and different techniques, but have not found one that I thought was amazing…until now. 
Recently I searched yet again for a new recipe and came across a video that promised to be the best HOT wings ever. 
So I watched it and I just had to try making them. The thing that makes this recipe unique is that it is baked, not fried.  Well, that is not too unique. 
There are lots of baked chicken wing recipes out there.  What I think gives these wings their intense flavor is the layers of seasoning. 
The first layer is in the coating you put on the wings before they are baked. 
Then, the combination of spicy, sweet, and tangy sauce, gives the wings their final coat of yumminess. 
Also, the technique of baking the wings on a parchment paper-covered baking sheet, at a very high temperature, allows them to come out crispy and golden brown. 
Do not skimp on this step.  Go out and splurge on a $2 roll of parchment paper.  You will not regret it. 
So, this Crispy Baked Chicken Wings Recipe does not have a memorable story attached to it.  Only that it will be a new favorite on the Christmas Eve Appetizer table. 
So, on the fourth day of appetizers, Dianna is bringing to you…Crispy Baked Chicken Wings.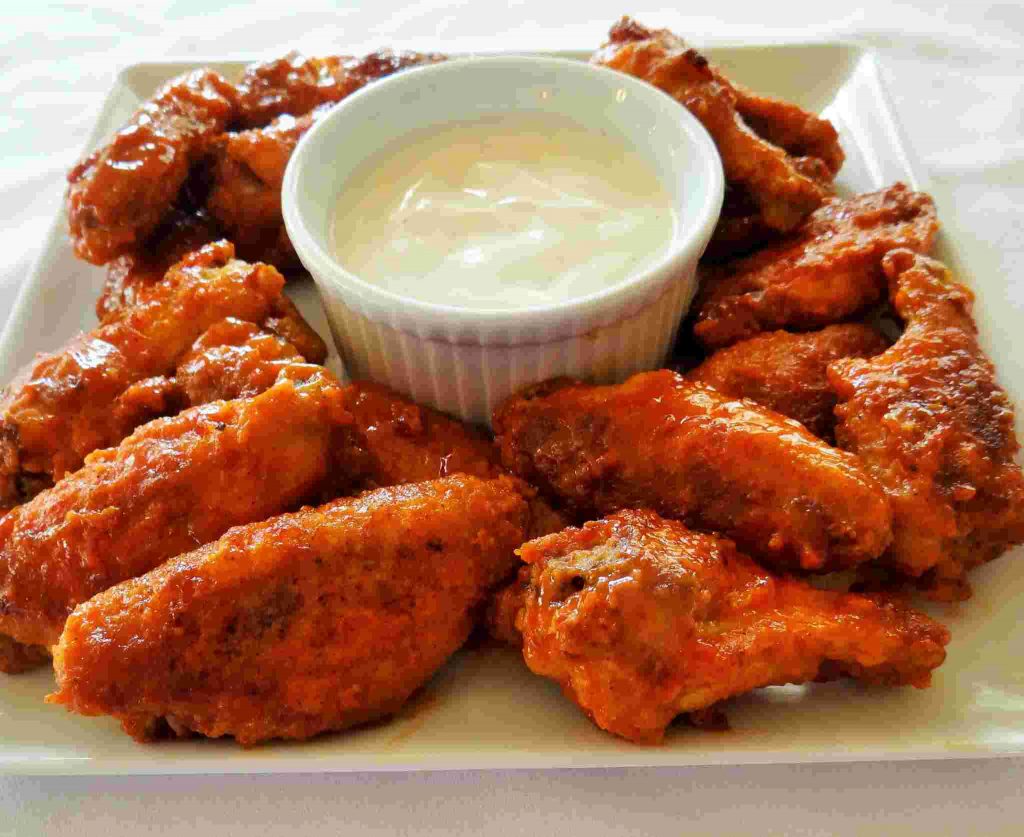 Crispy Baked Chicken Wings
Ingredients
3

lbs

lbs chicken wings (about 18 wing pieces)

¼

cup

extra virgin olive oil

⅓ 

cup

all purpose flour

1

tbsp

cayenne pepper

½

teaspoon

salt

½

teaspoon

black pepper

⅓

cup

Frank's Red Hot Sauce

2

tbsp

ketchup

2

tbsp

barbecue sauce

2

tbsp

brown sugar

2

tbsp

apple cider vinegar or fresh lemon juice

1

tbsp

butter

Ranch or Blue Cheese Dressing
Instructions
Preheat the oven to 475 degrees. Prepare a large baking sheet with parchment paper.

Rinse chicken wings, pat them dry and place in a bowl. Combine with olive oil until completely coated.

Mix flour, cayenne pepper, salt and black pepper together. Place in a large Ziploc bag

Place a few wings in the bag at a time. Seal the bag and toss to coat the wings. Place floured wings on the parchment covered baking sheet. Repeat with the remainder of the wings.

Bake wings for 45 minutes turning every 15 minutes.
For the Sauce
Place Frank's Red Hot Sauce, ketchup, barbecue sauce, brown sugar, and vinegar or lemon juice in a small sauce pan. Cook on medium heat until bubbly. Cook for about 5 minutes until slightly reduced. Stir in butter until melted and mixed through.

Pour sauce over wings and toss until coated.

Serve with Ranch or Blue Cheese Dressing