Today I am going to share the recipe of one of my favorite chefs, Ina Garten, and today I am presenting y'all with Ina Garten's Roast Chicken Recipe.
For over a year now, I have enjoyed sharing my recipes with you.  Some of the recipes have come from my parents or grandparents and other relatives.  Some are from my own creations.  Many are from the kitchens of the wonderful friends I have met over the past 30 years as a military spouse. 
And finally, there are the recipes from my library of cookbooks that are just too good not to share.  This recipe for Ina's Roast Chicken is one of those recipes. 
Ina Garten's Roast Chicken Recipe
And yes, you guessed it, it is from one of my favorite chefs, Ina Garten, also known as the Barefoot Contessa.  I feel like I identify most with her style of cooking. 
She makes food that starts with whole, fresh ingredients and looks a lot harder to make than it actually is.  And you can make this beautiful roast chicken too. 
It may be a matter of rolling up your sleeves, believing in your cooking skills, and trying something new.
Trust me, I do not consider myself a gourmet cook.  I am a cook who loves to try out new recipes, even if they look a little challenging. 
I also love learning new tips and tricks from other cooks.  And, if Ina Garten's Roast Chicken Recipe is a success, I love to share it with others. 
So, you will not see very many fancy sauces swirled on my plates or garnishes with names you can not pronounce. 
Most of the recipes that come out of my kitchen are made with simple ingredients and are full of rich, memorable, flavors.
Why am I sharing the recipe for Ina's Roast Chicken?
Another reason I wanted to share this recipe for Ina's Roast Chicken with you is because, if you are like me, you often find yourself running into the grocery store at 6 or 7 at night trying to figure out what to make for dinner. 
You grab one of those precooked roast chickens (in the plastic container) and you take it home with all the intention of making something glorious with it. 
But instead, you quickly tear into it and at best, throw it on top of a bed of bagged salad greens only because you are starving! 
"Also check my The Best Crispy Baked Chicken Wings Recipe"
Now, don't get me wrong, I love those roast chickens.  They are convenient and pretty tasty too!  But, what if you were able to make your very own roast chicken over the weekend (when you have a little time), that had just as much flavor, a lot less salt, and would set you up with 3 or 4 meals for the rest of the week?  How great would that be?  All the ingredients are fresh and by making it yourself, you could also save some money.  And you will be so excited when you discover how simple it is to make!
Another thing that makes Ina Garten's Roast Chicken Recipe so awesome is that you can completely change the flavor of the chicken just by substituting a few ingredients. 
If you would like more of an Italian-flavored roast chicken, substitute basil for thyme.  For more of a Mexican twist, substitute cilantro, dried chiles, and oranges. 
Just start with Ina's Roast Chicken recipe and follow the simple steps.  You will be on your way to one fabulous roast chicken…courtesy of Ina Garten and the Memorable Kitchen!
Now without wasting any more time let's jump to Ina Garten's Roast Chicken Recipe.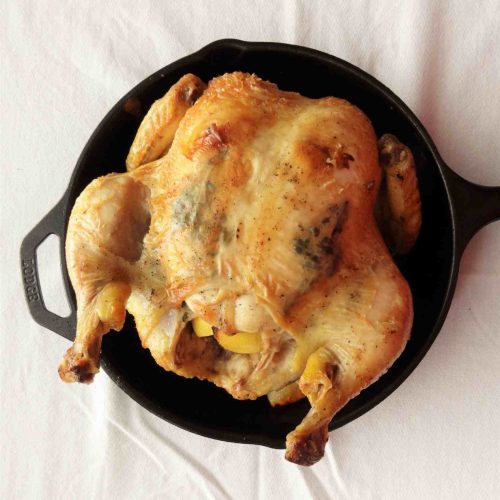 Ina Garten's Roast Chicken Recipe
Ingredients
1 4-to 4½

pound

whole chicken

4

sprigs fresh thyme

2

large garlic cloves, smashed flat

1

lemon, quartered

2

teaspoons

fine sea salt, plus extra for serving

½

teaspoon

freshly ground black pepper

3 to 4

slice of country bread, cut ¾-inch-thick

Good olive oil
Instructions
One to two days before cooking, place the chicken in a baking dish. Using your fingers, gently loosen the skin from the breasts and thighs without breaking the skin. Carefully slide the sprigs of thyme and the garlic under the skin. Put the lemon in the cavity. Tie the legs together and tuck the wings under the body. Sprinkle with 2 teaspoons of sea salt and the pepper, cover the dish tightly with plastic wrap, and refrigerate for 24 to 48 hours

The day of, preheat the oven to 500 degrees. Place the bread in a medium (10-12 inch) cast-iron skillet in a single layer. Brush the chicken with olive oil and place it, breast side up, on top of the bread.

Roast for 30 minutes, turn it over and roast for 15-20 minutes, until the juices run clear when you cut between the leg and the thigh and the internal temperature reads 175 degrees.

Remove from the oven and wrap the skillet tightly with aluminum foil.

Allow the chicken to rest at room temperature for a full 30 minutes.

Carve and place on a serving platter or store in airtight containers or storage bags.